Manchester Apprentices celebrate at National Awards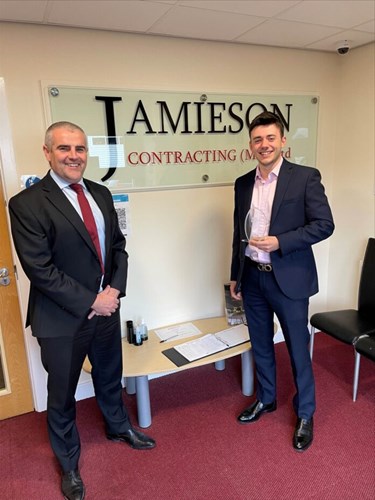 Four apprentices from Greater Manchester are celebrating after being recognised at the Apprenticeship Awards 2021 hosted by Lloyds Banking Group.
Stephanie Lynch-Ozanar a cyber security technologist apprentice at Linten Technologies, Rose McIntosh a digital marketing apprentice at Search Consultancy and Alicia Jade Tichborne a chartered management apprentice at Ethical Education were all highly commended in the Best SME Apprentice category.
Ned Hindle, a chartered surveyor apprentice working forJamiesons Contracting in Hyde was announced as winner of the Best SME Apprentice award for his commitment to his new role and enthusiasm for learning. Ned also received excellent feedback from valued clients and is already managing his own portfolio of projects.
Ned Hindle said: "It's a great feeling to win, and to even be nominated for an award from Lloyds Banking Group. Despite the past year's events, by working alongside an exceptional team and support network, working for Jamieson Contracting has made my apprenticeship and professional life an absolute pleasure. I massively look forward to working for the business for many years to come, and the opportunities this will continually bring."
The apprenticeships were all established using funding from the Greater Manchester Levy Matchmaking Service, which matches smaller employers with larger donor organisations to fund apprenticeship training. To date the levy has prompted £3.9m inward investment in Manchester and helped 345 businesses to set up apprenticeship schemes.
Andy Burnham, Mayor of Greater Manchester said: "I am very proud that all four apprentices recognised in the Lloyds Banking Group SME Apprenticeship Awards 2021 are based in Greater Manchester. They have all worked really hard and are examples of how apprentices can really benefit companies – as well as play an integral role in how the city-region recovers following the pandemic.
"I believe that nobody should be prevented from working in the industry of their choice and that everybody growing up, living or working in Greater Manchester should have access to all of the opportunities that are available. I urge further SME organisations and businesses in our city-region to take advantage of the Greater Manchester Levy Matchmaking Service and consider how having an apprentice can help their business to thrive."
Elyn Corfield, regional ambassador for the North at Lloyds Banking Group said: "It's brilliant to see these four fantastic apprentices get recognised for all their hard work. They've each made a positive impact at the firms they work for.
"Apprenticeship schemes can be hugely valuable for companies looking to build home-grown talent and develop specific expertise, and I'd encourage businesses of any size to find out more about setting one up. Not only do they create great opportunities for people, but they can also have a big business impact. As we help Britain recover we're on hand to support firms as they build the skills they need to achieve long-term growth."